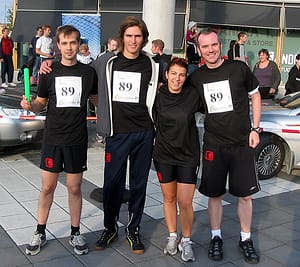 The Sixth Floor Skulls, originally uploaded by Stuart Chalmers.
The people in my office at SP/VTi entered the Lindholmenstaffeten 10k relay race at Lindholmen Science park this year on 11th Sept 2008: 4 runners, 2.5k each. We managed a very respectable 47.15 secs. Individual times were (in the order we ran):
Niklas: 11mins 11secs (fast!)
Stuart: 12mins 07secs
Josef: 11mins 52secs
Tania: 12mins 05secs
A really good (and really enjoyable) race! Click here or the image above for more pictures.